manual for
XYZ OPEN CITY

XYZ OPEN CITY Groningen, The Netherlands, 2013






Introduction:

XYZ OPEN CITY is an open source, modular, low cost system that persons in local communities can use as a tool to implement a wide range of shared functions in public space. The XYZ OPEN CITY system can be used to build anything from urban gardens to fully functional insulated housing. Building materials can be new or recycled. XYZ OPEN CITY constructions can be dedicated to a specific purpose like for example an OPEN POWER STATION based on solar panels and/or wind turbines or it can form multifunctional buildings providing a variety of facilities. It can also be used to construct new infrastructure like bridges, etc. With XYZ OPEN CITY N55 proposes to share things in public space as an alternative to state or private ownership and hereby to establish new commons. XYZ OPEN CITY can plug into existing infrastructure and change the functions of existing buildings, indoors or outdoors, or it can be used to build a new city from scratch. When the system is implemented in an area, it can grow in relation to local needs and wishes. The XYZ OPEN CITY system can be seen as a do-it-yourself urban planning tool; An alternative to the top down urban planning that dominates most cities in the world. N55 encourage persons to build their own XYZ OPEN CITIES and hereby influence their local urban environments. The single modules are so lightweight that a crowd of people can carry one each, gather up at a site and quickly create a large structure with different functions in public space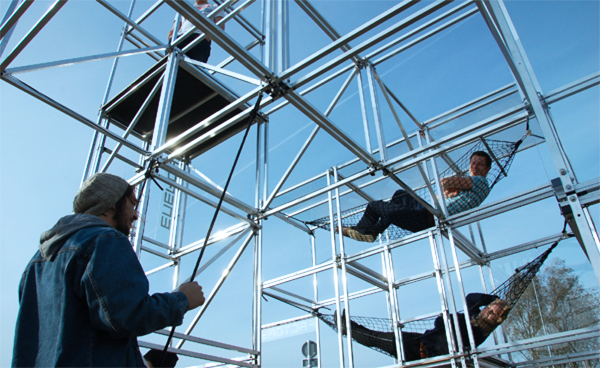 XYZ OPEN CITY is work in progress and new systems and solutions will be made available and shared at N55.dk. Please share your own XYZ OPEN CITY experiences and solutions by mailing N55 at n55@n55.dk. The XYZ OPEN CITY by N55/ Ion Sørvin and Till Wolfer, is an open source hardware system provided under the rules of Creative Commons. (BY-NC-SA, It may not be used for commercial purposes and any use of the system must include proper credits to N55/ Ion Sørvin and Till wolfer and collaborators plus a link to N55.dk). Construction drawings of the basic cube used in the XYZ OPEN CITY system will be made available for download at N55.dk .


Construction:

The overall appearance and functions of the XYZ OPEN CITY are determined by the do-it-yourself builders. The basic cubic building blocks are identical and can be combined freely within an orthogonal system in all directions. Each module can accommodate a different function and modules can be combined to form overall functions.The building blocks themselves consists of identical struts made from locally available materials. For the prototype N55 used aluminum. XYZ OPEN CITY is based on the open source XYZ NODES construction system by N55. The XYZ NODES is a simple way of building light weight things from durable materials in a low cost way. It enables persons to build things similar to well known construction toys like Lego or Meccano, based on the principle of a few different parts used repeatedly to create an overall structure. All needed parts can be produced both manually using very basic tools or with advanced CNC technology. In this case, the structure is made from aluminum. XYZ NODES are based on rigid connections between aluminum square tubes that do not require welding. Structurally the XYZ NODES connection shares similarities with lashed joints used for example in the traditional wooden frames seen in inuit kayaks. Or rivet constructions such as airplane hulls or old ship hulls. It forms rigid corners that becomes flexible when exposed to forces that would break other joining methods like a welded joint. The XYZ NODES allows for the construction of rigid frames relying on corner connections to be build that are not necessarily triangulated for greater strength, hereby leaving a free open space inside the frame.. A number of mechanical solutions and special connections have been developed. Please have a look at various solutions here:


XYZ OPEN CITY PROTOTYPE:

N55 was invited as a guest teacher at the Academy Minerva, School for Fine Art, Design and Pop Culture in Groningen in the Netherlands in 2013. Together with teachers and students from the Minerva Academy, N55 have produced a prototype of XYZ OPEN CITY for the Energize Festival.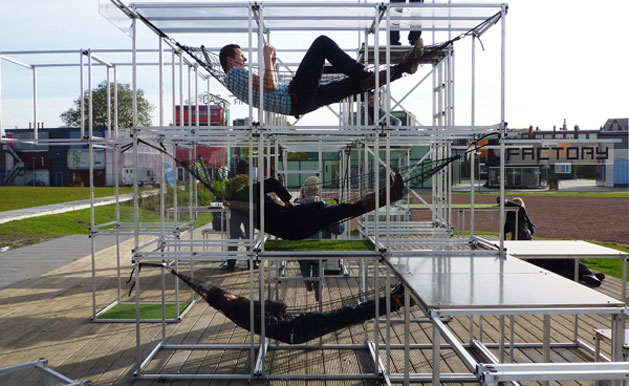 BACKGROUND:

We find ourselves in a situation where large concentrations of power determines the layout of our urban environments in most places in the world. Most architects, urban planners, designers, artists etc are more than willing to work for these concentrations of power despite the fact that these concentrations of power do not necessarily respect the rights of persons: Concentrations of power do not always respect the rights of persons. If one denies this fact one gets: concentrations of power always respect the rights of persons. This does not correspond with our experiences. Concentrations of power characterize our society. Concentrations of power force persons to concentrate on participating in competition and power games, in order to create a social position for themselves. Concurrent with the concentrations of power dominating our conscious mind and being decisive to our situations, the significance of our fellow humans diminishes. And our own significance becomes the significance we have for concentrations of power, the growth of concentrations of power, and the conflicts of concentrations of power. It is clear that persons should be consciously aware of the rights of persons and therefore must seek to organize the smallest concentrations of power possible. This is also the case when it comes to urban planning. N55 suggests that we find a different approach to urban planning and take into consideration what is right and wrong. Intelligent urban design would require the design of systems which adjust themselves to the persons who live in them and to their needs. Unlike a top-down master plan, such systems gradually dissolve themselves as the inhabitants take over and transform their city according to their needs and desires. Based on collaboration, cooperation and diversity, intelligent cities acknowledge that we are social beings needing space for being different. It is possible to let the growth of the city be framed by simple rules, which allows people to freely develop their own environments and systems. N55 propose a critical approach to city design by daring to give the inhabitants real and meaningful influence on the form and function of their city, and by using friendly technologies, which allows our urban environment to exist in symbiosis with our planet rather than as a parasite. The XYZ OPEN CITY can be seen as part of N55's ongoing research aiming to find new ways of using public space while respecting persons and local communities. An attempt to find ways of existing with as small concentrations of power as possible





XYZ OPEN CITY POLITICS:

N55 hereby encourages persons in local communities to formulate simple and just rules that will enable the XYZ OPEN CITY to be established and developed further in compliance with local needs as well as the general societal situation.
N55 suggests respecting conditions for description: logical relations and facts, as a basis for politics. Ideologies, religions, subjective opinions, social conventions, and habitual conceptions do not necessarily respect conditions for description. N55 propose that persons understand the following:
A person can be described in an infinite number of ways. None of these descriptions can be completely adequate. We therefore can not describe precisely what a person is. We do however have the possibility to point out necessary relations between persons and other factors. We have to respect these relations and factors in order not to contradict ourselves and in order to be able to talk about persons in a meaningful way. One necessary relation is the relation between persons and bodies. It makes no sense referring to a person without referring to a body. If we for example say: here we have a person, but he or she does not have a body, it does not make sense. Furthermore, there are necessary relations between persons and the rights of persons. Persons should be treated as persons and therefore as having rights. If we deny this assertion it goes wrong: here is a person, but this person should not be treated as a person, or: here is a person, who should be treated as a person, but not as having rights. Therefore we can only talk about persons in a way that makes sense if we know that persons have rights.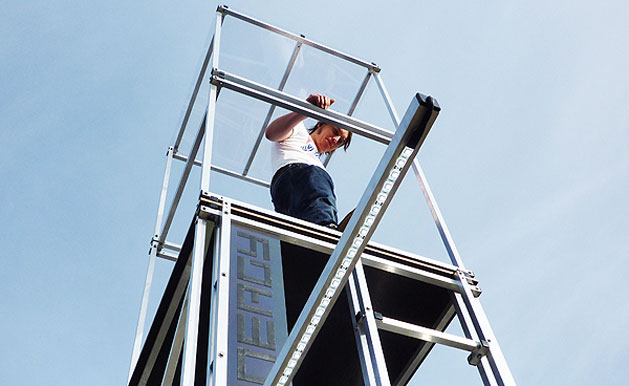 This leads to understanding politics on the most basic level:
The fundamental purpose of politics is to protect the rights of persons. If we deny this assertion we get: the fundamental purpose of politics is not to protect the rights of persons. This suggests that one of the basic tasks of politicians could be, for example, to renounce the rights of themselves and of others. This has no meaning. Or that there is a more important purpose to politics which does not have anything to do with persons and therefore also has nothing to do with the rights of persons. That is plain nonsense. Therefore, we now know that the basic purpose of politics is to protect the rights of persons. In other words we can not talk about politics in a way that makes sense without the assumption that the fundamental purpose of politics is to protect the rights of persons.






Funding of XYZ OPEN CITIES:

A number of crowd funding systems already exists that could be used for financing local XYZ OPEN CITY projects.


Examples of potential functions that could be integrated in XYZ OPEN CITY:

OPEN HOME ( basic functions for a home (eat, sleep, shit) for any person to use.
OPEN FACTORY, (local production facilities)
OPEN POWER STATION ( harvesting energy from the local environment and distributing it for free for all persons to use)
OPEN URBAN GARDENS ( local food production)
OPEN BAR ( free bar based on sharing stuff with others)
OPEN KITCHEN ( cooking facilities for any person to use)
OPEN BAKERY ( baking ovens etc for any person to use)
OPEN BRIDGE ( structural construction to establish access)
OPEN THEATER ( a stage for any person to use for plays, concerts movies, talks, meetings etc.)



Maintenance:

The maintenance needed for an XYZ OPEN CITY structure depends on the specific functions applied. The materials used in the prototype is highly durable and requires little or no maintenance.


Technical specifications of basic structure:
Materials:
Aluminum tubes 25 mm x 25 mm, 2mm thick
Stainless steel bolts, nuts and washers, 6mm
POM distance pieces 12 mm
Plywood, 12 mm
Polycarbonate plate, 3mm
Net for hammocks
Rope
LED strips
Batteries, solar panels etc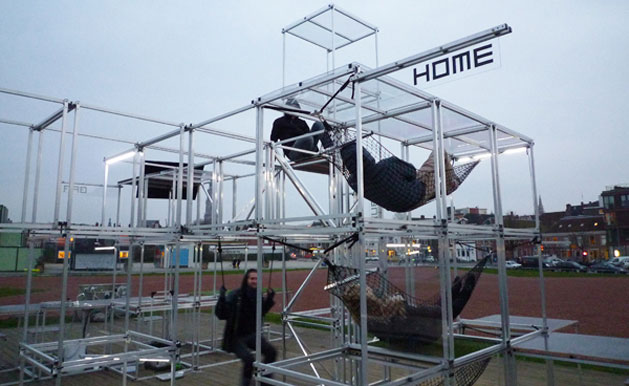 By N55/ Ion Sørvin and Till Wolfer
Thanks To:

Mads Lund Pedersen for his assistance in relation to all aspects of the process of realizing the first prototype
Anne Romme for ongoing discussions, important critique and drawings.
Erling Sørvin for input and discussions of the building system
Per Schandorf for building a scale model
Anne Nigten, for creating the necessary platform for the prototype to be realized in Groningen
Dani Heres Dominguez for invaluable practical assistance in Groningen

And to:

Bart Beekman
Serge Hollander
Wietse de Vor
Malissa Geersing
Hendrik Hantschel
Samantha Knol
Anna Ypma
Rémi Janssen
Thijs Alberts
Jurrit van der Ploeg
Christine Faße
Elske Hollemans
Mathijs Mooij
Kevin de Boer
Bjorn Eerkes
Bart Barnard



XYZ OPEN CITY SITUATIONS:




XYZ OPEN CITY Groningen, The Netherlands, 2013