Manual for


SNAIL SHELL SYSTEM
| | |
| --- | --- |
| | More units together can form temporary communities. |
| | |
| --- | --- |
| | Walking inside the SNAIL SHELL SYSTEM. |
| | |
| --- | --- |
| | Paddling the SNAIL SHELL SYSTEM. |
| | |
| --- | --- |
| | SNAIL SHELL SYSTEM parked. |
| | |
| --- | --- |
| | It is easy to steer the SNAIL SHELL SYSTEM up and down stairs and through different obstacles. |
| | |
| --- | --- |
| | Supply Station: information dispenser, water, power (12 V) and phone / data line. |


Supply station:

A supply station for the SNAIL SHELL SYSTEM has been developed The supply stations belong to the system PUBLIC THINGS (see Manual for PUBLIC THINGS) and are intended to be put out in publicly accessible places where they can provide access to water, electricity (12 V) and communication lines (phone and data).


Maintenance:

The SNAIL SHELL SYSTEM requires no special maintenance apart from occasional cleaning. If the unit is transported by sea, all rubber parts should afterwards be washed in fresh water.


Technical specifications:

Weight: 90 kg
Dimensions: Diameter 153 cm, height 105 cm.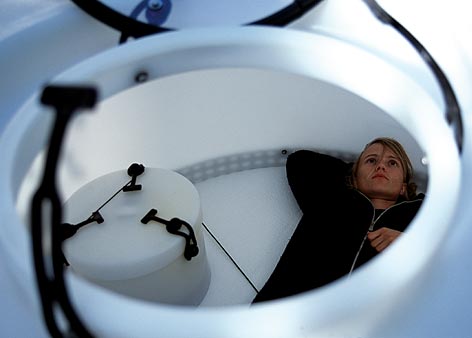 SNAIL SHELL SYSTEM, inside. Music by Anders Remmer.




Component list:

1 pc cylindrical tank, low density polyethylene Ø 153 cm, h: 105 cm
1 pc paddle, aluminium and PP
1 pc hand bilge pump
11 mm nylon rope
Exit: 3 mm polycarbonate lid Ø 50 cm, bakelite spheres, rubber straps, rubber string
Caterpillar tracks: rubber door mats, nylon straps
50 mm polyethylene foam
1 pc cylindrical tank LDPE, Ø 37, containing alcohol burner, frying pan, pot, handgrip, 10 liter foldable water container, sponge, roll of PE-plastic bags, torch, 20 mm tube
3 pc 8 mm eye bolts, stainless, acid-resistant steel
6 pc 6 mm eye bolts, stainless, acid-resistant steel
Various bolts, nuts and discs in stainless, acid-resistant steel.


SNAIL SHELL SYSTEM situations



Back to manuals
Back to HOME