Manual for
CITY FARMING PLANT MODULES



CITY FARMING PLANT MODULES, 2003




Introduction:

CITY FARMING PLANT MODULES enable persons to grow plants in cities. The plant modules can be arranged in multiple formations directly on pavement, squares, etc.


Construction:

The plant modules consist of soil, which is wrapped up in semitransparent, semi-permeable fibre cloth made into flexible forms. Water is introduced into every module by hoses that can be connected to drain pipes on buildings or to other water sources. The parts of the hoses that are inside the modules are perforated, which allows the water to seep out into the soil. Rainwater will also penetrate the fibre cloth, which will retain moisture while allowing excess water to escape.


Planting and harvest:

CITY FARMING PLANT MODULES is intended for use by anybody.
Persons can harvest plants and plant new plants. Some of the plants, like potatoes, require a large soil volume and therefore grow best in bigger modules. Herbs and beans need less space and can be grown in narrow rows. The vegetables may be harvested whenever they are ready to use If the modules are handled carefully, the cloth can be used several times. However, the soil may need to be fertilized with compost, etc., before reusing.


Maintenance:

The system is maintained by the persons using it. In case of drought, the modules can be watered by hand, or the hoses can be connected to a tap.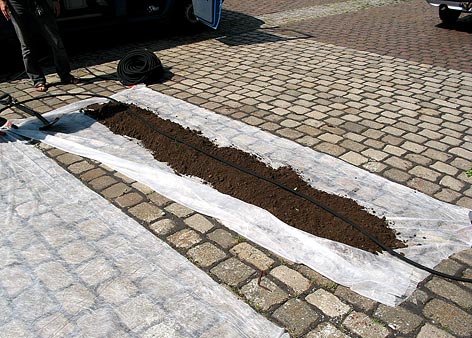 CITY FARMING PLANT MODULES. Hoses, fiber cloth and fertilized soil.




Component list:

Polypropylene fibre cloth with fertilised soil, nylon straps
Black permeable PVC hoses
Transparent fibre reinforced PVC hose
Polypropylene hose couplings
Polyethylene funnels.



| | |
| --- | --- |
| | The ends of the plant modules are fixed with nylon straps. |
| | |
| --- | --- |
| | Connection to a drain pipe. |
| | |
| --- | --- |
| | The plant modules are linked together using hose couplings. |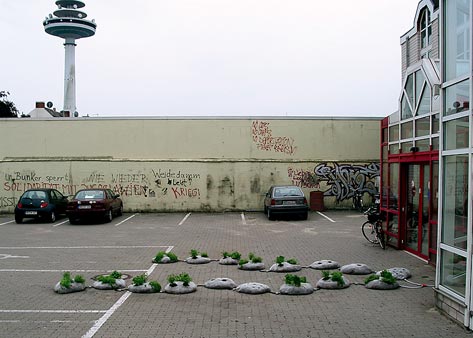 CITY FARMING PLANT MODULES, Bremen, Germany 2003
CITY FARMING PLANT MODULES situations
Back to manuals
Back to HOME