Manual for

ROOMS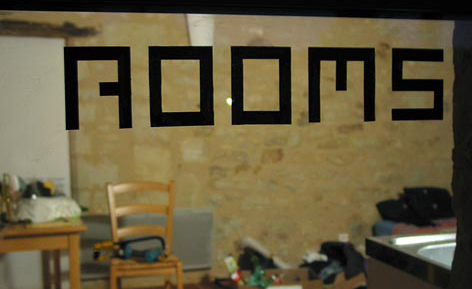 ROOMS, Les Arques, France 2004


Introduction:

ROOMS gives access to rooms. Any person can use ROOMS. ROOMS can be established anywhere supplying different functions like rooms for sleeping, making food, reading, meeting, producing things etc.


Construction:

ROOMS is a system that can be used for sharing rooms with other persons. ROOMS consists of rooms in different places in the world. The rooms are included in ROOMS by persons who guarantee that anybody can use them according to the function they are initiated with and within given periods of time.
Any person can expand ROOMS by providing one or more rooms. These rooms can be in existing buildings, they can be mobile rooms, or they can be built for ROOMS. Positions of ROOMS can be found in Manual for ROOMS. The manual is continuously updated. A current version can also be obtained by contacting N55.


Using ROOMS:

Persons who offer rooms indicate a function and a time period for the use of the rooms. Any person can use ROOMS.
Attention is directed to the logical relation between persons and the rights of persons. Persons should be treated as persons and therefore as having rights. If we deny this assertion it goes wrong: here is a person, but this person should not be treated as a person, or: here is a person, who should be treated as a person, but not as having rights. Therefore we can only talk about persons in a way that makes sense if we know that persons have rights.


Expanding ROOMS:

ROOMS can be expanded by anybody by offering a room and informing N55 of the position. Formally, the rooms remain the property of the persons participating in this way, but they guarantee that any person can use the rooms according to their indicated functions. Alternatively, persons can set up parallel ROOMS systems, for example by collecting and distributing information about the positions of ROOMS themselves.


Maintenance:

ROOMS is maintained by the persons involved.


Addresses: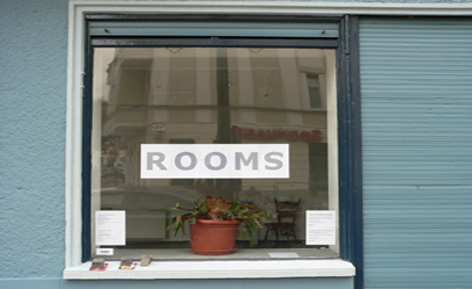 ROOMS, Berlin 2006


Wühlischstr. 56
Berlin, Germany
tel: +49 (0)30 4209 2465
email: info@taktberlin.org
size: 40 m2
use: this room is available for meeting, discussing, socialising, relaxing, and thinking. A
message board will also be available for have/want listings.
August 2006: Fridays and Saturdays 4-8 pm, August 4th ˆ 26th




ROOMS, Berlin 2006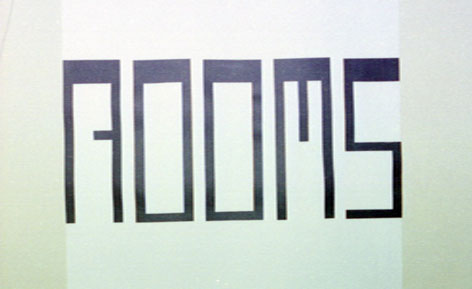 ROOMS, Macedonia 2005


Cultural Center Magaza
address: D.Radosavljevic 4
7000 Bitola, Macedonia
tel.: ++389 47 233 187
size: 42m2
use: 10.00 - 20.00
period: December 28th 2005 - January 20th 2006




ROOMS, Macedonia 2005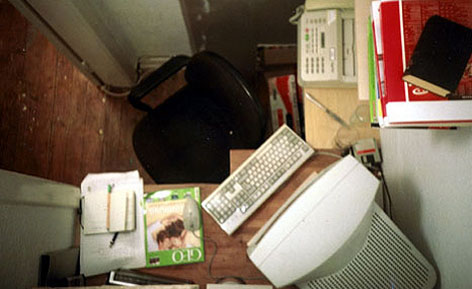 ROOMS, Hamburg, Germany 2004


Small office, Rosenallee 9, 20097 Hamburg Germany.
Phone: +49-(0)40-23686824
Size: 1.4 m2
Use: The room is a communication platform. Telephone and internet are installed. Dictionairies and a radio are available. Internet and phone costs are paid by the user.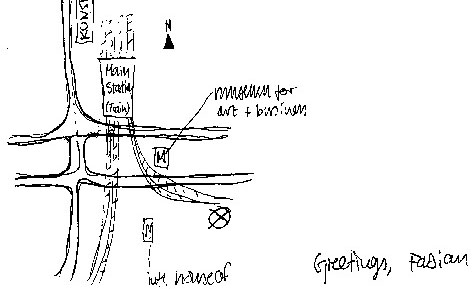 ROOMS, map, Hamburg, Germany 2004




ROOMS, Melbourne, Australia 2004

CLUBSvenue + CLUBsannex (2 connected rooms)
level 1, 211 Gertrude Street Fitzroy, Melbourne 3065, Australia
www.clubsproject.org.au
Email: biancahester@123mail.org
Use:collaborative work rooms; for open-source information sharing, discussion, production and socialising.
Period:(2004)
Friday June 25th: 12-6pm
Saturday June 26th: 12-6pm
Sunday June 27th: 12-6pm
Friday July 2nd: 12-6pm
Saturday July 3rd: 12-6pm
Sunday July 4th: 12-6pm
Friday July 9th: 12-6pm
Saturday July 10th: 12-6pm
Sunday July 11th: 12-6pm




ROOMS, Göteborg, Sweden 2001


Konsthögskolan Valand, Vasagatan 50, fifth floor,
40530 Göteborg, Sweden.
Tel: +46 0733905725
E-mail: openacademyvaland@hotmail.com
Size: 35 m2
Use: Can be used for any non-commercial purpose. Accessible at all hours.
Period: January 2, 2001 - June 2, 2001. Might be extended.




ROOMS, Hamburg, Germany 2002

Room for Northeast Reading, Steindamm 63, ground floor,
20099 Hamburg, Germany.
Projektgruppe,
Tel/fax: +49 404302067
E-mail: info@projektgruppe.org
Size: 30 m2
Use: Accessible from 15.00 to 23.00.
Period: June 9-20, 2002




ROOMS, St. Gallen, Switzerland 2002

Kunsthalle St. Gallen, Davidstrasse 40, first floor,
9000 St. Gallen, Switzerland.
Tel: +41 0712221014
Size: 18 m2
Use: open 24 hours. Any purpose related to the local community.
Period: from June 28, 2002




ROOMS, Copenhagen, Denmark 2003

N55, Krudtløbsvej, Copenhagen K, Denmark.
E-mail: n55@n55.dk
Size: 45 m2
Use: open 24 hours.
Period: from May 17, 2003




ROOMS, Arnhem, The Netherlands 2004


ATELIER by EMPEE, Vogelkersweg 52, first floor, Arnhem, The Netherlands
Tel/fax: +31 848 336 881
E-mail: artbyempee@tiscali.nl or P.O.Box 242, NL 6700AE Wageningen.
Size: Three Rooms 49 m2 each.
Use: The Atelier-room can be used for any non- commercial artwork purpose. Accesible every First and Third Saturday of the First and Third Month of
each Season, from three a.m. to three p.m.
Period: January 1, 2004 – December 18, 2004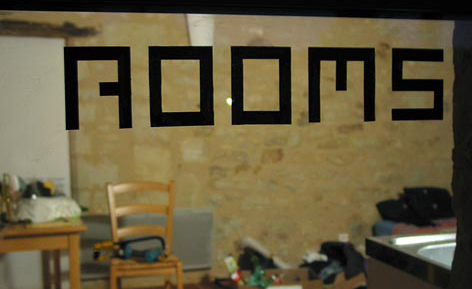 ROOMS, Les Arques, France 2004


Les Ateliers des Arques, Le Presbytère, 46250 Les Arques, France.
www.ateliersdesarques.com
Tel: +33 5 65 22 81 70
E-mail: ateliers.des_arques@tiscali.fr
Size: 45 m2
Use: open 24 hours.
Period: February 1 - March.



Back to manuals
Back to HOME